Pricing pollution will create new opportunities and help underpin Australia's long-term competitiveness as the world moves to tackle climate change.
The modelling demonstrates that the cost to Australia of cutting pollution and transforming our economy to cleaner energy sources is very modest.
The Australian economy continues to grow, jobs continue to grow, and average incomes continue to grow under carbon pricing, while at the same time we cut the link between pollution and growth.
The world is moving to a low pollution future. As part of its plan to secure a clean energy future, the Australian Government has adopted a stronger long-term target for cutting pollution.
The Government's reduction targets of at least 5 per cent below 2000 levels by 2020 and 80 per cent below by 2050 represent Australia's fair contribution to global action.
It is desirable for Australia and other countries to source some abatement domestically and some from overseas. Abatement sourced from overseas provides income for other countries and helps the spread of new technology to reduce emissions.
Global emissions are what matter for reducing the risks of dangerous climate change.
Our dynamic economy is well placed to price carbon. It is expected to slow Australia's average income growth by around 0.1 of a percentage point per year.
Average incomes grow strongly under carbon pricing, with average incomes expected to increase by about 16 per cent from current levels by 2020, an increase of around $9,000 in today's dollars. By 2050, the increase is expected to be more than $30,000 in today's dollars.
The revenue from carbon pricing will fund generous household assistance, support for Australian businesses and jobs and climate change programs.
With and without carbon pricing
Australian GNI per person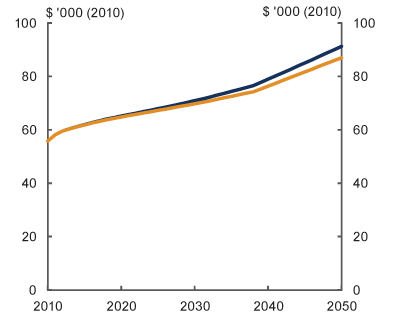 Australian emissions