Pricing pollution results in a modest increase in the overall consumer price level of less than one per cent.
Carbon pricing will change the relative prices of goods and lead to a small increase in overall prices.
Households will receive generous assistance, which they will be able to pocket if they transfer consumption to less emission-intensive goods or improve their energy efficiency.
Millions of households, particularly pensioners and low income households, will be better off.
The largest price increases will be for goods with a high emission intensity such as electricity and gas.
Most other products, such as food, will hardly be affected.
A carbon price of $23/t CO2-e in 2012‑13 has a small one‑off rise in the consumer price index of around 0.7 per cent.
This is an increase in average weekly expenditure of around $9.90, of which electricity accounts for around $3.30 and gas around $1.50.
Electricity prices are expected to rise with or without carbon pricing. Carbon pricing is expected to add around 10 per cent to electricity prices in 2012‑13 and 9 per cent to gas prices.
A second CPI increase of 0.2 per cent is expected in 2015‑16 as the carbon price moves to the world carbon price of $29/t CO2-e, bringing the total CPI impact to 0.9 per cent over 4 years.
Beyond 2015‑16, implications for ongoing inflation are minimal, though the prices of some goods rise.
Even though the price of emission‑intensive goods increases, the share of consumer income spent on these goods does not rise. This is because consumers take up opportunities to shift consumption into low‑emission goods.
Household electricity prices (2010 dollars)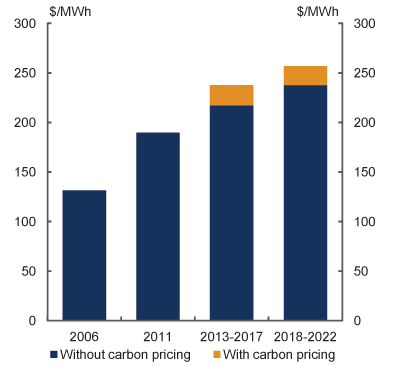 Effect of $23/t CO2-e carbon price on expenditure, 2012-13
| | Weekly expenditure | Consumer prices |
| --- | --- | --- |
| | $ per week | Per cent |
| Electricity | 3.30 | 10 |
| Gas | 1.50 | 9 |
| Food | 0.80 | <0.5 |
| Overall effect | 9.90 | 0.7 |