Even with the exclusion of household transport fuel, pricing pollution will drive a transformation of the sector.
Transport is critically important in a large country like Australia. It is currently a significant source of emissions, producing around 14 per cent of national emissions in 2010.
Over 85 per cent of transport emissions come from road transport.
High and rising oil prices, together with new fuel emission standards, are
expected to drive a transformation in the sector.
An effective carbon price (imposed through adjustments to excise rates and fuel tax credits) will provide an additional incentive for business to develop and adopt cleaner fuels and
technologies.
Although it will take time for the commercial vehicle fleet to respond, and for new technologies to emerge, the effective carbon price will drive down transport sector emissions.
The majority of abatement from heavy road transport comes from substituting to biodiesel.
Changes in the heavy vehicle sector will have positive spill-over effects.
Strong demand for biofuels could make them cheaper and more available for car users, further reducing emissions.
The Government understands that fuel costs are a significant share of the household budget, particularly for regional and rural Australians.
Recognising this, households and small businesses will not face a carbon price on fuel used in their cars.
Road transport fuel use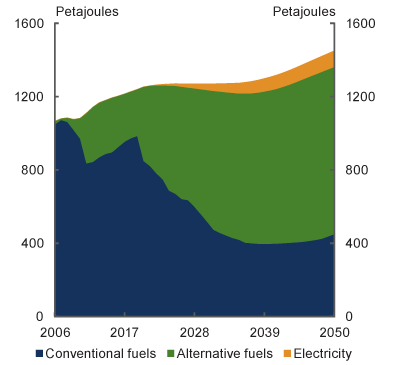 Road transport emission intensity