For decades, banks, insurers and other financial service providers have held a dominant market share with little change to their business models. But today these businesses are facing new pressures from innovators providing services that offer a different experience for consumers.
Innovators are opening up new opportunities for business and consumers alike — they are unlocking new demand in our economy.
FinTech innovators are disrupting the market place for incumbents and reshaping the approach to financial services in areas such as: primary banking accounts, payments, capital markets, investment management and insurance. New approaches like crowdfunding, peer‑to‑peer lenders, mobile payments, digital currencies such as Bitcoin, and robo‑advisers could benefit consumers by increasing choice and stimulating more competition.
FinTech is driving the future of financial services
Innovations in devices and connectivity are providing consumers with payments like digital wallets.
Marketplace lenders and crowdfunding platforms are becoming an alternative source of lending and an important source of funding for many seed‑stage businesses.
New streams of granular, real‑time data are emerging, and with them innovators who use that data to support financial decision‑making.
Alternative funding platforms are widening access to capital raising activities and providing funding to a greater number of companies and projects.
Robo‑advisers have automated a full suite of wealth management services including asset allocation, investment advice, all offered to customers at a cheaper cost and more personalised level.
Disaggregation driven by FinTech has the capacity to transform the insurance industry and greater personalisation of policies will improve insurance products and policies.
New entrants are able to offer innovative delivery platforms and differing services made possible by more nimble IT systems and increased availability of data. They are challenging incumbents by responding to consumer demands for greater choice and transparency.
The larger entrenched financial providers, of course, recognise that innovation is imperative and that FinTech offers potential solutions for them as well, promoting 'Fintegration' between FinTech and traditional financial service providers. Other incumbents are also responding by investing and exploring new models for delivering services. Some of Australia's largest financial providers have established centres of innovation and are looking to work with FinTech innovators to deliver new solutions.
The growth of financial services and FinTech in Australia will help drive growth in related professional services such as legal, accounting, and other broader technologies. It will also help foster innovation in, and the development of, technology skills and capabilities that benefit the broader economy, such as cybersecurity.
For their part, consumer preferences and attitudes, driven by generational shifts and rapid consumer adoption of technology, are rapidly changing and FinTech is helping align financial services with consumer and market expectations and demands.
Peer-to-peer lending offers benefits for borrowers and investors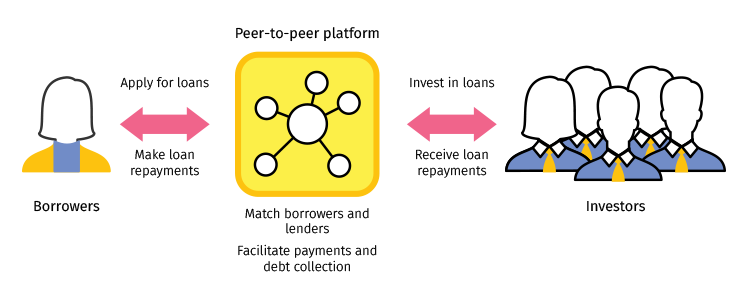 By operating online and embracing targeted credit assessment techniques, peer‑to‑peer lenders have the potential to offer loans to borrowers faster, more simply and at lower interest rates. On the investment side, peer‑to‑peer platforms allow investors to access a wider range of loans more directly than is possible using traditional investment mechanisms.
Related