Downloads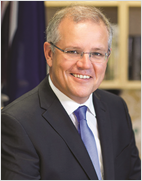 At the recent World Economic Forum it was noted that 90 per cent of the data we use today has been created in the past two years. The ability of new technology to capture and process big data is changing how we do business and the way consumers use products and services.
Financial technology – or FinTech – is transforming our financial system and potentially our entire economy and it's not just about digitising transactions.
Just as the internet has empowered people around the globe through access to information, financial technology is reducing information asymmetry in the marketplace and thereby helping to mitigate risk and promote the efficient allocation of scarce resources.
FinTech is all about stimulating technological innovation so that financial markets and systems can become more efficient and consumer‑focussed. This can help drive improvements in traditional financial services and, perhaps more importantly, promote disruption through innovative new products and services, which can offer benefits to consumers and other sectors of the economy.
As Treasurer I want to help create an environment for Australia's FinTech sector where it can be both internationally competitive and play a central role in aiding the positive transformation of our economy.
The Turnbull Government wants to offer home‑grown and offshore FinTech innovators an opportunity to develop and refine new products and services in the Australian market through a regulatory system that allows them to be frictionless through their scale journey while still becoming regulatory match fit for deployment into domestic and global markets. There is enormous opportunity in our region for Australia's financial services exports, as well as for businesses to provide new products and financial services which create value for individuals and other sectors of the economy.
Competition policy and microeconomic reform will be driven by the innovations in FinTech, especially in payments systems, and the ASX has already announced that it is seeking to introduce Blockchain technology for its clearing and settlements process.
FinTech is going to revolutionise how consumers and businesses, as the drivers of economic activity, interact. This is going to have big implications for demand in the future. We need to be part of these changes and we have got to work out the best way to engage with FinTech and prepare for the financial system and economy of the future.
The Hon Scott Morrison
Treasurer
Related