There has been no significant change to the portfolio overview, portfolio responsibilities or entity outcomes from that included in the Portfolio Budget Statements 2015-16 (pages 3-5).
As a result of the Administrative Arrangements Orders in September 2015, portfolio responsibility for the Clean Energy Finance Corporation was transferred to the Department of the Environment.
Additional estimates are being sought for the Department of the Treasury, the Australian Competition and Consumer Commission, the Australian Securities and Investments Commission and the Australian Taxation Office. Explanations of additional estimates for these entities are detailed in their respective section in the Portfolio Additional Estimates Statements.
There are no additional estimates for the Australian Bureau of Statistics, the Australian Office of Financial Management, the Australian Prudential Regulation Authority, the Commonwealth Grants Commission, the Inspector-General of Taxation, the National Competition Council, the Office of the Auditing and Assurance Standards Board, the Office of the Australian Accounting Standards Board, the Productivity Commission or the Royal Australian Mint.
Figure 1: Treasury portfolio structure and outcomes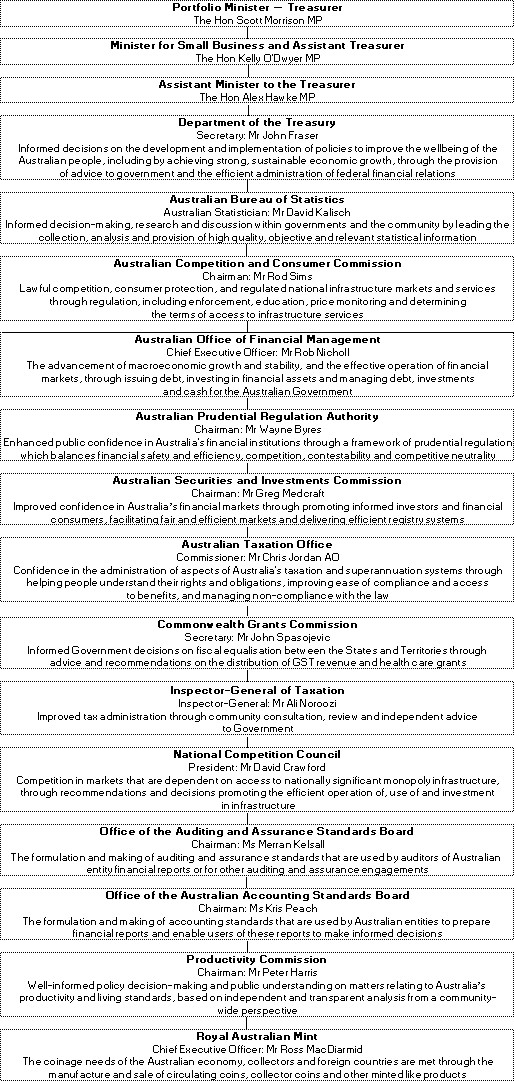 Portfolio resources
Table 1 shows those entities reporting in the PAES and the additional resources provided to the portfolio in the 2015-16 budget year, by entity.
Table 1: Portfolio Resources (2015-16 Additional Estimates)
Appropriation Bill No. 3
($'000)
Appropriation Bill No. 4
($'000)
Special appropriation
($'000)
Receipts

($'000)

Total

($'000)

Department of the Treasury
Administered appropriations
1,400
-
-
-
1,400
Departmental appropriations
1,768
-
-
-
1,768
Total:
3,168
-
-
-
3,168
Australian Competition and Consumer Commission
Administered appropriations
-
-
-
-
-
Departmental appropriations
2,524
11,596
-
-
14,120
Total:
2,524
11,596
-
-
14,120
Australian Securities and Investments Commission
Administered appropriations
633
-
-
-
633
Departmental appropriations
-
3,508
-
-
3,508
Total:
633
3,508
-
-
4,141
Australian Taxation Office
Administered appropriations
-
-
-
-
-
Departmental appropriations
46,226
74,025
-
-
120,251
Total:
46,226
74,025
-
-
120,251
Resources available within portfolio:
141,680