Workplace diversity
The Treasury is committed to providing an organisational culture that embraces and actively promotes diversity. Several important initiatives were introduced in 2011-12.
Treasury launched the Progressing Women initiative after staff consultations in 2011 that identified challenges faced by Treasury women. Progressing Women comprises a suite of strategies to widen and deepen the pool of future leaders in the Treasury by harnessing the talents of women at all levels. The strategies are based on five themes:
leadership, governance and accountability;
workplace policies;
training and networks;
performance assessment and career development; and
measuring success.
To achieve these themes, the Treasury has:
formed the Inclusive Workplace Committee with internal and external representation;
conducted training for the Inclusive Workplace Committee on unrecognised bias with a wider rollout scheduled for 2012-13;
consulted on flexible work arrangements, including presentations by senior staff who have worked in part time and other flexible working arrangements while in senior positions; and
commenced the design and development of a mentoring scheme.
In early 2012, the Treasury nominated a participant in the Jawun Indigenous Corporate Partnerships Program 2012. This secondment will take place in 2012-13.
The Treasury employed four Indigenous Cadets in 2011-12 through the APSC's Indigenous Cadetship Program. They are studying business, commerce and law.
At 30 June 2012, 11 per cent of Treasury staff worked part-time. Nearly half of these staff were executive level employees or SES. Both male and female employees have used part-time work to enable them to balance work and family requirements. In addition to part-time work, the Treasury maintained access for staff to access job-share arrangements and home-based work through its 2011-14 Workplace Agreement. These flexibilities help the Treasury to contribute to the retention of staff with valuable skills and knowledge.
At 30 June 2012 (see Table 7 below), departmental staff comprised:
47 per cent women;
24.6 per cent born overseas;
0.7 per cent who identified as Indigenous;
12.3 per cent with English as a second language; and
1.7 per cent who identified as having a disability.
Table 7: Operative and paid inoperative staff by Equal Employment Opportunity target group (as at 30 June 2012)
Classification
Female
Born Overseas
English as
second Language
Indigenous
Disability
CADET
 
 
 
4
 
APS1
1
 
 
 
1
APS2
1
 
 
 
1
APS3
47
19
8
 
 
APS4
35
12
8
 
2
APS5
81
36
30
 
1
APS6
103
52
31
1
4
EL1
106
63
31
2
1
EL2
69
42
11
 
4
SES1
14
15
2
 
3
SES2
7
2
1
 
 
SES3
 
3
 
 
 
Grand Total
464
244
122
7
17
As at 30 June 2012, 47 per cent of the Treasury's workforce were women. This is an increase over the 30 June 2011 figure of 45.4 per cent and only slightly lower than the 30 June 2007 peak of 47.8 per cent (see Chart 1 below).
Chart 1: Treasury staff by gender 2001 − 2012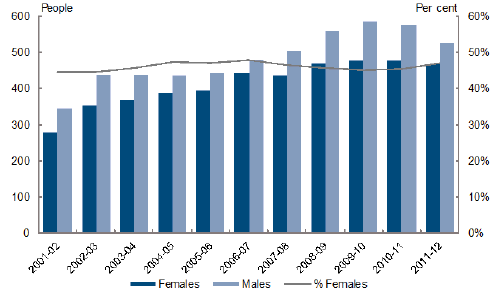 As at 30 June 2012, seven staff identified as being Indigenous (0.7 per cent of the workforce). This compares with six staff members identifying as Indigenous in 2010-11. The Treasury has continued to support Indigenous employment in 2011-12 through the Indigenous Pathways program managed by the APSC. The Treasury employed four Indigenous Cadets in 2011-12.
In the Treasury Workplace Agreement 2011-14, the department maintained its commitment to a range of family-friendly working arrangements, such as access to information about child care and school holiday care through the intranet and an external service provider, access to a carer's room, and accreditation as a breastfeeding-friendly workplace.
Since 1994, Commonwealth departments and agencies have reported on their performance as policy adviser, purchaser, employer, regulator and provider under the Commonwealth Disability Strategy. In 2007-08, reporting on the employer role was transferred to the APSC's State of the Service Report and the APS statistical bulletin. These reports are available on the Australian Public Service Commission website at www.apsc.gov.au.
The Treasury has continued to provide access to adaptive technologies and other practical support for staff with a disability. This included the voice-activated software made available for two staff, regular provision of an interpreter through the Deaf Society of NSW for an employee with a hearing impairment, and arrangements for four sit-stand work stations to enable effective working arrangements. In addition, the Treasury employed a trainee under its Disability Work Experience Program. These and other activities to assist employees with a disability are provided for under the Treasury's Disability Action Plan.
Table 8: Appointments of women to boards or equivalent of statutory and non-statutory bodies (as at 30 June 2012)
 
Total positions filled as at 30 June
Number of women
Number of appointments made during the year
Number of appointments of women
Auditing and Assurance Standards Board
1
1
–
–
Australian Accounting Standards Board
1
–
–
–
Australian Competition and Consumer Commission
11
4
2
1
Australian Competition Tribunal
13
1
4
–
Australian Energy Regulator
3
1
–
–
Australian Government Financial Literacy Board
13
3
1
–
Australian Prudential Regulation Authority
3
–
–
–
Australian Reinsurance Pool Corporation
6
3
–
–
Australian Securities
and Investments Commission
5
1
3
–
Australian Statistics Advisory Council
22
5
7
2
Australian Taxation Office
4
1
–
–
Board of Taxation
10
3
2
1
Commonwealth Consumer Affairs Advisory Council
9
4
6
2
Commonwealth Grants Commission
6
2
4
2
Companies Auditors and Liquidators Disciplinary Board
10
–
–
–
Corporations and Markets Advisory Committee
12
5
–
–
Energy Security Council
8
1
8
1
Financial Reporting Council
17
5
3
1
Financial Reporting Panel
8
1
8
1
Financial Sector Advisory Council
12
2
9
1
Foreign Investment Review Board
3
1
1
–
HIH Claims Support Limited
4
–
–
–
Inspector-General of Taxation
1
–
–
–
Legal Committee of Corporations and Markets Advisory Committee
10
5
3
1
National Competition Council
4
1
1
–
National Housing Supply Council
12
6
4
2
Payments System Board
7
1
1
–
Productivity Commission
11
5
1
–
Reserve Bank of Australia
9
3
3
1
Superannuation Advisory Committee
13
4
–
–
Superannuation Complaints Tribunal
26
11
24
10
Takeovers Panel
52
16
14
4
Tax Practitioners Board
9
2
–
–
Total
335
98
109
30