The Treasury is committed to providing an organisational culture that embraces and actively promotes diversity. The Workplace Diversity Program demonstrates the Treasury's commitment to providing a work environment that recognises the value of staff with different backgrounds, perspectives and experiences to contribute to a vibrant organisation equipped to achieve the Treasury's objectives.
The Treasury's diversity profile is moderately stable (refer to Table 8 below). At 30 June 2011, departmental staff included:
45 per cent women;
26 per cent born overseas;
12 per cent with English as a second language; and
2 per cent who identify as having a disability.
Table 8: Operative and paid inoperative staff by EEO target group
(as at 30 June 2011)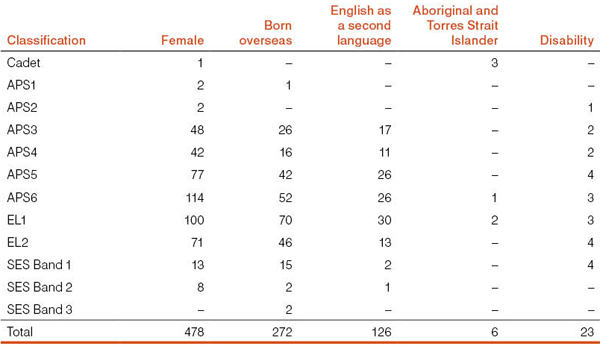 The Treasury has an Indigenous Employment Strategy, which is current until 2012. Six staff identify as being Indigenous (0.6 per cent of the workforce). This compares with four staff members identifying in 2009-10. The Treasury's Reconciliation Action Plan Report is due to be updated later this year. Progress made against the reconciliation plan was reported in early 2011. Part of this progress included lectures by several high profile Indigenous speakers. The department continues to participate in Indigenous graduate and cadet selection processes, coordinated by the APSC, and have four Indigenous cadets.
During the year, the Treasury held celebratory events to recognise and support diversity in the workplace. Reconciliation Week and the National Aborigines and Islanders Day Observance Committee (NAIDOC) Week were observed. The Treasury has a current Disability Action Plan which is operational until 2012, when it will be subject to review. Staff were invited to participate in celebratory events in recognition of International Women's Day. Ms Leah Armstrong, Chief Executive Officer of Reconciliation Australia, provided a dynamic and informative address delighting the large audience of both women and men.
To support workforce diversity, the Treasury offers flexible working arrangements and a family-friendly work environment. The Treasury is accredited as a breastfeeding friendly workplace and a carers room is provided to assist staff with parental or other caring responsibilities. The Treasury continues to offer two 30-minute daily breaks for nursing mothers working full-time, as well as one 30-minute break to nursing mothers working less than 20 hours per week. Current information available on the intranet includes child care, school holiday care and resources for carers. The department continues to provide staff with access to an external service provider to assist with information on care requirements, including childcare.
At 30 June 2011, 12 per cent of Treasury staff worked part-time. Half of these are executive level staff or higher. In addition to part-time work, Treasury staff can access job-share arrangements and may apply for home-based work.
The Treasury's Mature Age Employment Strategy is regularly reviewed to ensure it meets the needs of a diverse workforce. The strategy is designed to support mature age workers to actively participate in the workforce and facilitate the transition to retirement.
The Treasury has eight Workplace Harassment Contact Officers to assist employees who may require support. State of the Service Employee Survey results continued to confirm that the Treasury records low levels of bullying and harassment compared with the APS average.
Chart 1: Treasury staff levels
Women remain marginally under-represented in the overall Treasury workforce. The percentage of women increased from 44.6 per cent at 30 June 2002 to 47.8 per cent at 30 June 2007. By 30 June 2011, this percentage had declined to 45.4 per cent, approximately the same percentage at 30 June 2003.
Table 9: Appointments of women to boards or equivalent of statutory and non-statutory bodies
(as at 30 June 2011)