Workplace diversity
The Treasury is committed to providing an organisational culture that embraces and actively promotes diversity. The Workplace Diversity Program demonstrates the Treasury's commitment to providing a work environment that recognises the value of staff with different backgrounds, perspectives and experiences to contribute to a vibrant organisation equipped to achieve the Treasury's objectives.
The Treasury's diversity profile is moderately stable (refer to Table 9 below). At 30 June 2010, it included:
45 per cent women;
24 per cent born overseas;
11 per cent with English as a second language; and
2 per cent who identify as having a disability.
Table 9: Operative and paid inoperative staff by Equal Employment Opportunity target group (as at 30 June 2010)
Classification
Female
Born Overseas
English as
second Language
Indigenous
Disability
CADET
1
-
-
3
-
APS1
2
 1
-
-
-
APS2
2
-
-
-
1
APS3
49
27
13
-
1
APS4
52
18
14
-
2
APS5
72
27
16
-
3
APS6
106
49
28
1
4
EL1
100
70
29
-
3
EL2
74
42
17
-
4
SES1
146
16
2
-
4
SES2
4
3
-
-
-
SES3
-
2
-
-
-
Grand Total
478
255
119
4
22
In 2009-10 the Treasury developed and implemented an Indigenous Employment Strategy. Four staff identify as being Indigenous (0.04 per cent of the workforce). This compares with one staff member identifying in 2008-09. The Treasury's Reconciliation Action Plan Report is being finalised, with an updated version due to be released in late 2010. The department continues to participate in Indigenous graduate and cadet selection processes, coordinated by the APSC and has three Indigenous cadets.
During the year, the Treasury held celebratory events to recognise and support diversity in the workplace. Reconciliation Week and the National Aborigines and Islanders Day Observance Committee (NAIDOC) Week were observed. A revised Disability Action Plan was launched on the International Day of People with Disability and paralympian, Michael Milton spoke. Staff were also invited to participate in celebratory events in recognition of International Women's Day and National Families Week.
To support workforce diversity, the Treasury offers flexible working arrangements and a familyfriendly work environment. The Treasury is accredited as a breastfeeding friendly workplace and a carer's room is provided to assist staff with parental or other caring responsibilities. The Treasury continues to offer two 30-minute daily breaks for nursing mothers working fulltime, as well as one 30minute break to nursing mothers working less than 20 hours per week. A range of current information is available on the intranet to staff including child care, school holiday care and resources for carers. The department continues to provide staff with access to an external service provider to assist with information on care requirements, including childcare.
At 30 June 2010, 11 per cent of Treasury staff worked parttime. More than half of these are executive level or higher. In addition to parttime work, Treasury staff can access jobshare arrangements and, in particular circumstances, may apply for homebased work.
The Treasury's Mature Age Employment Strategy is under review to ensure it meets the needs of a diverse workforce. The strategy is designed to support mature age workers to continue in the workforce and make the transition to retirement.
The Treasury has eight Workplace Harassment Contact Officers to assist employees who may require support. State of the Service Employee Survey results continued to confirm that the Treasury records low levels of bullying and harassment compared with the APS average.
Chart 1: Treasury staff by gender 2001 − 2013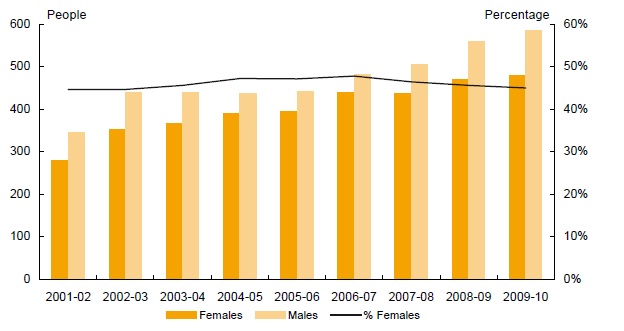 Commonwealth Disability Strategy
The Treasury's revised Disability Action Plan was launched on the International Day of People with Disability in 2009. The plan provides a mechanism for coordinating the department's efforts to meet its responsibilities under the Commonwealth Disability Strategy regarding equity, inclusion, participation, access and, in particular, accountability. Progress will be reviewed in late 2010.
A range of assistance is provided to staff with a disability in the Treasury, including work station set-up and purchase of special equipment, such as voice recognition software. The department endeavours to identify, wherever possible, the needs of staff with a disability before they commence work in the department. During 2010, particular support was provided, through the JobAccess Employment Assistance Fund, for staff with hearing impairment.
Table 10: Appointments of women to boards or equivalent of statutory and non-statutory bodies (as at 30 June 2010)

|   | Total positions filled as at 30 June | Number of women | Number of appointments made during the year | Number of appointments of women |
| --- | --- | --- | --- | --- |
| Auditing and Assurance Standards Board | 1 | 1 | - | - |
| Australian Accounting Standards Board | 1 | - | 1 | - |
| Australian Competition and Consumer Commission | 7 | 2 | 1 | 1 |
| Australian Competition Tribunal | 11 | 1 | 1 | - |
| Australian Energy Regulator | 2 | - | 1 | - |
| Australian Prudential Regulation Authority | 13 | - | - | - |
| Australian Reinsurance Pool Corporation | 7 | 3 | - | - |
| Australian Securities and Investments Commission | 6 | 1 | 2 | 1 |
| Companies Auditors and Liquidators Disciplinary Board | 13 | - | 3 | - |
| Corporations and Markets Advisory Committee | 10 | 5 | 4 | 3 |
| Financial Reporting Council | 19 | 3 | 4 | - |
| Financial Reporting Panel | 9 | 1 | 9 | 1 |
| National Competition Council | 4 | 1 | 4 | 1 |
| Payments System Board | 6 | 1 | - | - |
| Productivity Commission | 16 | 6 | 7 | 2 |
| Superannuation Complaints Tribunal | 21 | 10 | 1 | - |
| Takeovers Panel | 54 | 15 | 21 | 5 |
| Australian Statistics Advisory Council | 19 | 7 | 6 | 2 |
| Reserve Bank of Australia | 9 | 1 | - | - |
| Inspector-General of Taxation | 1 | - | - | - |
| Tax Practitioners Board | 11 | 2 | 11 | 2 |
| Commonwealth Grants Commission | 5 | 1 | 1 | - |
| Commomwealth Consumer Affairs Advisory Council | 8 | 2 | - | - |
| Australian Government Financial Literacy Board | 12 | 3 | 4 | 1 |
| Financial Sector Advisory Council | 13 | 2 | 9 | - |
| Foreign Investment Review Board | 3 | - | 2 | - |
| HIH Claims Support Limited | 4 | - | - | - |
| Legal Sub-committee of Corporations and Markets Advisory Committee | 10 | 5 | 7 | 4 |
| Board of Taxation | 10 | 2 | 4 | 1 |
| Superannuation Advisory Committee | 9 | 5 | 9 | 5 |
| Total | 304 | 80 | 112 | 29 |